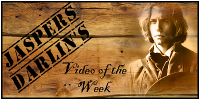 Hey guys!!!!
Hope you've had a good few weeks. I know I've been epic fail on my posts, but I've been battling a sinus infection from hell. So far it is still kind of winning, but I'm able to focus a little bit so I'm here to give you some yummy goodness.
Okay, so this video holds a special place in my heart. Mainly because I made it. :D It was a birthday present for one of my best good friends, twilightobsessed09, and she loves Jackson just as much as we do. I hope you enjoy it just as much as she did.
Hope you liked it.
Until next week...MWAH!