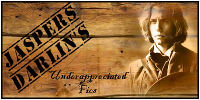 Hey guys!!!!
Sorry, I've been an epic fail for the last few weeks and today isn't going to be much better. I did have a story all picked out for you guys and then fanfic decided to be a major douche-monkey today. I can't get in to get the summary, link, or a teaser for you so I'm saving it until next week.
I will use today to send out a request though. I'm having trouble finding stories or one-shots that meet the requirements for this segment. The only requirement is that for a full story it has to have less than 15 reviews per chapter and for a one-shot less than 40 reviews, but there are so many great stories that everyone is reading and reviewing.
If you know of a story, please leave a comment with the link or send me an email with the link at abbymickey24@gmail.com.
Until next week...where I hope to be able to use the story I wanted to today...MWAH!