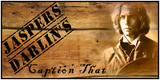 Hey guys!!!
Yes, it's me. I know I've been fail on posting, but I'm here now. Well, sorta. :D
I'm not going to post a pic this week for a few reasons.
1) Because I couldn't find one.
and
2) Because I need to get with my fellow Darlins' and figure out what to do with the comment winner. Maybe change up the reward.
I'll be back next week though with a brand new pic, so come back.
Until then...MWAH!!!!