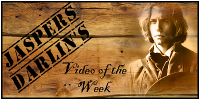 Hey guys!!! I barely made it, but I'm here now.
We're getting right into the video today because it's just unfffffffff. I'm talking wiping the drool, want to the lick the computer screen, and fall off your chair unf.
I hope you enjoy....
*licks lips, cocks eyebrow, and smirks* You liked it didn't you? I knew you would. I'll leave you to clean yourself up now.
Until next week....MWAH!