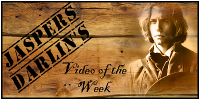 Hey guys!!!!
How are y'all this fine afternoon? Good I hope and if not I hope the video cheers you up a little.
Today's video is really just parts of the Jackson Rathbone Nylon photoshoot. It's my second favorite shoot he's done so I hope you enjoy.
Remember if there is a video you want to see just send me a link at abbymickey24@gmail.com.
Until next week...MWAH!