Morning peeps!!! Lets see what we have going on today. Just a couple of fandom events.
First up we have the
Team Losh fundraiser
. In September, six-year-old Aloshua went into respiratory distress and was rushed to Children's Hospital in Little Rock, Arkansas. While there, his family found out that Aloshua has pseudomonas aeruginosa in his lungs. Pseudomonas is a common bacteria found in a variety of environments that can cause serious disease in humans and animals alike. For severely ill children like Aloshua, the disease can be fatal if not properly treated. The only approved treatment for pseudomonas like this is an inhalation antibiotic that must be given in continual 28-day cycles. That is to say, Aloshua takes the antibiotic for 28-days, then stops for 28-days, and then begins another 28-day cycle. Aloshua may very well be on the antibiotic for years. As if that weren't bad enough, because the antibiotic is so expensive, his insurance only covers it for patients with cystic fibrosis, leaving his mom facing a $4,500.00 bill for one medication every other month. Please go check out their website and lets help this little boy get the medicine that he needs and what ever else he needs.
The second one I have for you is the
Fandom 4 Children
It's no secret that there are children all over the word who are suffering from abuse and neglect. Over 3 million reports of child abuse are made every year in the United States; however, those reports can include multiple children. In 2009, approximately 3.3 million child abuse reports and allegations were made involving an estimated 6 million children. There were more than 46,000 confirmed cases of child abuse in Australia last year. That's almost 1 case every 10 minutes where a child is suffering from neglect or physical, sexual or emotional abuse (often by people they know and should be able to trust). Many of these kids get no professional help whatsoever, and end up with lifelong problems.
In the United Kingdom, research indicates that abuse and neglect are both under-reported and under-recorded. According to their most recent statistics (March 2011), there are approximately 46, 700 children who are known to be at risk of abuse right now, and one in four young adults were maltreated during childhood. In an effort to help put an end to child abuse, Fandom 4 Children has been organized. We are hoping that members of all fandoms from all across the globe will be willing to reach out and contribute in some small way through donations to charities or by contributing to the compilation we are organizing.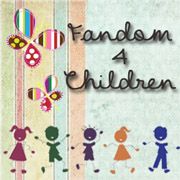 This is what I have a for you all today!! If you have anything else please don't hesitate to email it to me agrutle@gmail.com and I'll put it up here!! Have a great week and I'll see you next time!