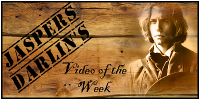 Hey guys!!!!
How is your Friday going so far? It's still a little early in some place and probably getting ready to end in others, but I hope everyone has a good day.
I think I might can make it better with today's video. Two weeks ago I used a video done by lostimortal2 (on youtube) and @lostimortal2 (on twitter). I think you all remember it. It was the one where I think I made all of you pass into a hotness coma.
Yeah, that one...well, I have another one she did for you guys today. And let me just say this was my reaction....
Enjoy....*smirks*
Until next week....MWAH!!!!