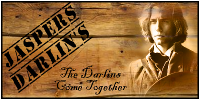 This week our Twitter followers (that'd be you guys) led us to If On a Winter's Night by Touchstone67. We were not at all disappointed!

I love Touchstone67. She's an amazing author and just all around nice
person, so when I saw one of her stories come in as a rec on twitter I
was so excited. I however have been a giant fucking fail and have yet to finish the
second chapter. Every time I go to read some RL bs gets in my way. I sadly cannot give
a well written review, I still don't know what happened to Edward. Jasper's sorrow in this story so far is gutwrenching, which is one of the reasons I haven't had much luck reading. I dont want to cry lol.
Touchstone67s writing is well done, albeit on the long winded side, she's wordy lol but that's ok because the story is good. From what I have read this story is worth it and I will be finishing it....just
tell life to back off for a few day so that I can. If you haven't read this story, you need to, if for no other reason then the simple fact that touchstone67 is the writer and it's awesome Edward/Jasper hotness!!!

~Jaspers Dark Angel
You know that feeling you get when you open your email and you find a chapter update to one of your favorite stories? Yeah…that's the feeling I get when I see one of Touchstone67's fics have been updated! I absolutely love, love, LOVE the stories she writes and this one holds a special place in my heart. Not only do the Beatles lyrics bring back memories, but the way Jasper deals with Edward's handicap hits home. I don't want to get side-tracked so I'll just get on with it! Lol
Touchstone67 brings out the best of Jasper (and the worst of Edward), but the love these two share is amazing! The good times are really good and the bad times will make you cry. So listen to me when I tell you to grab a box of tissues and read this fic…if you're a lover of slash, like I am, you won't regret it! I promise…
racejunkie
I haven't yet finished this story. To be honest, I've been taking short breaks between chapters because this is a double fisted Kleenex kind of story. I couldn't love it more, though.
I've never been disappointed by anything Touchstone67 has written and this fic is no exception. As I'm not very far into the story yet, I don't want to generalize too much, but I am really enjoying the characterizations of Jasper and Edward. The Beatles music is an unexpected and pleasant bonus, too.
There is an innocent sweetness to these first few chapters. Even in the midst of so much strife, the flashbacks from both Jasper and Edward to happier less complicated memories of their two year old relationship buoys the serious nature of Edward's current struggles.
Really, all I can say is that I cannot wait to continue the story and I know that you'll feel the same.
-NCChris
If On A Winter's Night by Touchstone67 is quite possibly one of the saddest and most beautifully written stories I've ever read. EVER! I started reading it when I saw a link for an E/J fic on my TL on twitter. At that point it was only six chapters in but I spent the entire night reading it. There's a major tissue warning for about seventy-five percent of the story so far but really in the end, it comes down to the fact that this is a love story.
Edward gets into a car accident on the night that he and J were supposed to make love to each other for the first time and things go downhill from there. He wakes up paralyzed and ready to give up on life but Jasper is there for him the whole way, even when Edward tries to push him away. Jasper knows what true love is and he feels it so strongly with Edward that even if it means running himself into the ground, he will do whatever it takes, and I do mean WHATEVER it takes to bring Edward back from the edge.
This is a journey and the boys still have a long way to go, but regardless of how the story ends, these boys belong to each other. They are made for each other and they are the epitome of what best friends and true lovers should be. They save each other and I am so glad that have begun reading it.
Touchstone67 is honestly one of the most gifted writers in the fan fic community and one of the most devoted too! She spends most of her free time writing between Winter's Night and Mergers & Acquisitions (which is another must read hands down). I don't know how she does it but I admire her tremendously!
So please take a chance on a story that will evoke so much emotion out of you I can promise you won't be sorry in the end!