So, real life has had me utterly snowed under and I owe several recs and segments. I'm posting the first one now, but stay tuned for more over the next day or so.
I recently read the beginnings of a new Jasper and Bella fic that I enjoyed very much and I think you will as well.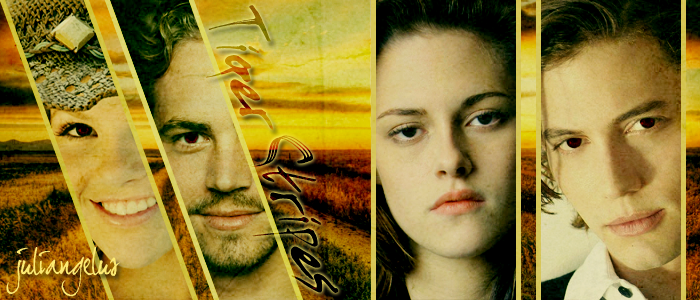 Tiger Stripes
---
Author:
juliangelus
Jasper found his everything in Bella. Bella found nothing she desired in Sam. Being stripped of everything she had Bella finds solace with Peter and Char. Can mates separated by hate overcome their haunted past? AU, Non Canon, Jasper/Bella, M for language/lemons
This is one of those fics that you jump into and get hooked on. I read through her posted chapters and was left practically begging for more. There's a great start here. She has an interesting and unique plotline, a Whitlock family unit (you guys know what a sucker I am for the Whitlocks), and a dark secret that's threatening to tear Bella apart.
I can't wait to read what's coming next and I know once you delve into this, you won't be able to either! This fic deserves more recognition than it's received so far, though, so head over and let juliangelus know that The Jasper's Darlins sent you!