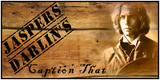 Happy Veteran's Day and Friday guys!!!!
Hope you all had a good day and hope you have a great weekend.
Okay, let's get straight into the pic from last week and the winning caption.
nom nom nom must eat before I'm found
Thank you to LaurieWhitlock for giving. Laurie if you will send racejunkie a quick email at race.junkie@hotmail.com she'll get you scheduled for Darlin' for a Day. Thanks again. MWAH


Now let's get into this week's picture or gif because I'm going with one of them again.