Hey guys!!!
So this week I have to once again thank LaurieWhitlock for keeping me from having zero submissions.
The picture she had and what she gave me was:
APOV
I decided one day that I was finally going to get a tattoo, I had been planning for a while to get one and I finally decided to do it. I walked into a tattoo parlor and saw a yummy man working on some blond chick. I looked around the walls at all the different designs that were available. I found the one that I wanted; it was a three heart tattoo with white wings. I didn't notice when the chick left until I heard his voice.
"So what can I do for ya Darlin'?"
I turned around to face him and my knees shook. He was a least 6 feet with black hair and piercing green eyes.
"Um... I want that one" I pointed to said tat.
He nodded his head and held out his hand to me. I placed mine in his and felt a bolt of electricity shoot through me. I looked up at him quickly and he smirked at me. He led me over to the chair and I sat down. As he began to work on my tat we got to talking. I found out that his name was Jasper Whitlock and he had been a tattoo artist for a couple of years. I asked him if he had tats and he told me that he did, his right arm was covered in tats as was his back.
He finished up with my tat and once it was covered to make sure that no infection set in, I got up so that I could pay. As soon as I stood up, Jasper grabbed my arm and pulled me back to him so that I was pressed as close to his body as possible. I looked up at him and he smirked at me again. He licked his lips and then tentatively lowered his head and gave me a quick kiss. I was shocked at first but once my brain caught up I kissed him back. His lips were so smooth. I wrapped my arms around his waist because I was too short to reach his neck and put more into the kiss.
He pulled away so that we could breathe and began to place kisses along my neck to my collarbone. I moaned when he sucked at my pulse point. He pulled back from me and looked in my eyes; I smiled at him which he returned. I couldn't believe that I was just kissed by some guy that I barley knew and actually like it. He walked away from me without saying at word to the front door, closed and locked the door and put the back in half an hour sign up. He then walked back to me, took my hand and I let him lead me to the backroom.
Once we walked through the door, I could see a cozy little room with a white couch, chairs, and a fireplace. We went to sit on the couch and Jasper told me that this wasn't something that he usually did but he felt different with me. I told him that I felt the same way but I wasn't sure that I was ready to go all the way with him. He told me that he understood but that it didn't mean that we couldn't have a little fun. I agreed to that and then moved so that I was able to remove his shirt. When I saw all his tats I was impressed.
There were all sorts of designs and I couldn't figure out a rhyme or reason to them other then he must have liked them. He got off the couch and came to stand in front of me saying that I had too many clothes on. I stood up and he reached behind me and unzipped my mini skirt. I wiggled out of it so that I was standing in front of him in nothing but my black top, white panties, black fingerless gloves and fishnet stocking. He put his hands on my hips and I jumped up so that I could wrap my legs around his hips. I needed to be as close to him as possible and I wanted to feel his lips on mine again.
I placed my lips on his and as we were kissing he walked us so that we were against the wall. I placed one hand on the back of his neck and the other one on his arm that was currently resting on the side of my head. We continued to kiss our lips moving as if they known each other for a lot longer then two hours. It was amazing to feel this way about someone that I just met.
Thanks again sweets for sending it in.
Now as for the picture this week, I'm going to go a little bit different and give you a gif. Maybe movement will help out on the inspiration a little more.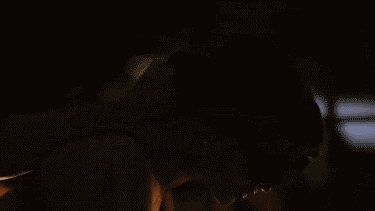 I think that is some good inspiration. So much you can do with that gif. Come on and show me what you got. Please. I ain't above begging if I have too. :)
Send all submissions to abbymickey24@gmail.com by Sunday at midnight.
And just a little reminder on the rules
1) All submissions must be drabbles (that means 1,000 words or less).
2) All submissions must be Jasper-centric, but the partners are author's choice.
3) Lemons are not mandatory, but are very much encouraged.
4) Each submission must be related to the week's picture prompt.
5) No recycling (no sending in the same drabble more than once).
Until next week...MWAH!