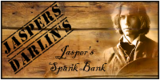 Hey guys!!!!
Sorry about the complete fail of not posting, but I'm back.
Here's a reminder of the last pic I posted...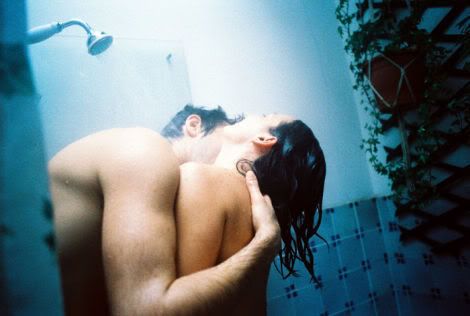 The spank I chose is by Twilightobsessed09. It is a preview of a story she has yet to post so I hope you enjoy.
Jasper

Watching as she made her way down the aisle to me on Carlisle's arm, I was blown away. It all seemed like a dream and if it wasn't for the fact that I couldn't sleep, I would have thought it was.

When he placed her hand in mine, my dead heart seemingly thumped. When her brown eyes met my golden ones, I felt as if I couldn't breathe. And when she smiled at me, I felt like the luckiest man on this Earth.

When we were pronounced husband and wife, I took her in my arms and swept my cold lips across hers. If it wasn't for the applause of our guests, I don't think I would have let go.

All night, I kept her close as we danced and laughed along with our family and well wishers.
Never did I think I would ever feel this way. She was what I'd always been waiting for.

Looking at her now as she laughed at Emmett's antics, I still wondered how I could have been so foolish to have avoided her. But in the end, the pull I felt was too strong to resist, and for that, I'm glad.

Taking her away from Emmett and into my arms, I whirled her around the dance floor as I listened to the steady beats of her heart. I lifted her in the air, laughing at the feeling of her glee before I pushed some of my own exuberance to her.

She sighed and closed her eyes, as I lowered her to the ground, lightly wrapping my arms around her. We continued in a slow waltz as I softly kissed her before I whispered, "I love you, Mrs. Whitlock."

"I love you too, Mr. Whitlock," she replied.

When the night came to an end, we bid everyone goodbye and left for the airport.The entire drive there, Bella's hand remained in my free one as I felt her curiosity spike about where we were headed.

Once we were at the airport, we promptly boarded the family's private jet and prepared to make our way to Ireland, unknown to Bella. I sent her a small wave of lethargy and once she was out, I reminisced on my choice for our honeymoon. When we had discussed places she wanted to see, Ireland was always on the top of her list.

When she awoke and found out where we were headed, the only word that could leave her mouth was, "How?"

To which I answered, "Magic…or maybe, Alice." She smiled and kissed me.

We were staying at the Lough Eske Castle for the next two weeks, and she seemed to be on cloud nine all the way up to our room.

While carrying her over the threshold, she began to softly kiss and nip along my neck. With each pass of her warm lips across my flesh, I purred as my body responded to her caresses.

Dashing to the bedroom, I lowered her to the bed, holding her off of me long enough to plead, "Bella, wait, wait."

"What?" she asked, breathlessly.

"I need to warm up, I don't want you freezing and you're already shivering," I told her, knowing she didn't notice.

I felt a hint of disappointment coming from her before she said, "Okay then. I'll be waiting."

I nodded and dashed to the bathroom. In there, I stripped and turned on the shower as hot as I could, and got under the spray. The feel of hot water against my marbled skin relaxed me and I closed my eyes. A gasp left me as the room suddenly filled with the sweet scent of her and her arousal. She entered the shower, and made her way to me, tipping on up on her toes to meet my lips.

Our lips moved with fervor as our hands roamed over one another. Opening her mouth to me, she welcomed my probing tongue as it dived into the depths of it. I delighted in her taste, and only pulled away so that she could catch her breath.

Lifting her from the floor, I held her against the shower wall as she stared into my eyes and gripped my shoulders in anticipation. Slowly, I guided my hard cock in her and remained still as always, giving her time to adjust to the intrusion of my sizable member.

Once she opened her eyes, and began to move her hips, I braced one hand on the wall, and gently wrapped the other around her waist before beginning to fuck my wife. I allowed her to bounce up and down my cock as my body reveled in her warmth while her fingers pointlessly clawed at my back with each hard thrust as her cries grew louder and louder.

I could feel my own orgasm building, but I didn't want to end it here. Removing my hand from the wall, I placed it on Bella's thighs and ran to the bedroom. Once I lowered her to the bed, I never let up on my pace as I pumped my throbbing cock into her. The feel of her pulsating around me had me spiraling. Every upward thrust made her scream and yell out for more while I fought to remain under control. I knew that I was projecting my own desire on her, but I couldn't help myself, she just felt so good.

Finally, her body arched up to me as she fell over the edge, taking me with her. My orgasm rocketed through me as my control tethered on the edge. Finding an outlet, I grabbed a hold of the head board and effectively broke it as I spilled my come inside her.

Coming down from my high, she showered my face with soft kisses until I opened my eyes to meet her gleaming ones.


Our lips brushed once or twice until she finally relaxed and fell asleep. I grabbed some blankets and wrapped her in them before moving to lie beside her to watch her sleep.
I personally can't wait for the story after that.
Now, on to this week's pic...
Show me what you got.
Send all submissions to abbymickey24@gmail.com by Sunday at midnight.
And just a little reminder on the rules
1) All submissions must be drabbles (that means 1,000 words or less).
2) All submissions must be Jasper-centric, but the partners are author's choice.
3) Lemons are not mandatory, but are very much encouraged.
4) Each submission must be related to the week's picture prompt.
5) No recycling (no sending in the same drabble more than once).
Until next week...MWAH!