Hey y'all - every once in awhile, I stumble across a fic that just begs to be read. Tonight was one of those times. I was trolling Google for Jasper fanart (cause I am a Darlin', y'all) and I ran across a story banner.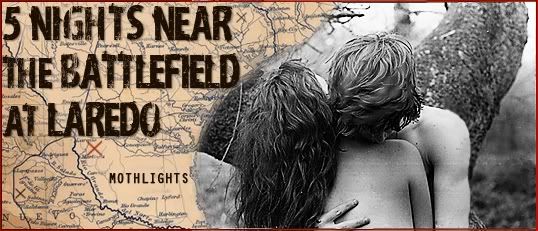 Now, look at that banner and you tell me you don't have any desire to read it...go on, I double dog dare you! So, after another Google search I managed to locate said fanfic by the very talented
Mothlights
. Y'all can just click the banner and check it out for yourselves since I did all the hard work already for ya. *winks*
Here's the pertinent info:
Pairing:
Jasper/Chelsea
Rating:
M
Status:
Complete
Summary:
Chelsea's gift lures an unwilling Jasper Whitlock to her side, but he's becoming more to her than a means to an end.
Setting:
Pre-Twilight (like Southern Vampire Wars era Major Whitlock)
Here's a little taste for you:
"You're spying for Graciano?" he asks.
Chelsea's not wearing her Volturi robe, of course. Out here in the field, she's in long pants and a grey shirt.
"And if I am?" She uses an American accent, because in a situation like this, she doesn't want to present him with anything unexpected, no matter how insignificant. She's learned that rule the hard way.
"If you're his spy, you should be afraid."
"Maybe I am afraid," she says, and she lets her voice crack, hoping it will make him underestimate her.
"No, you're surprisingly calm. I sense almost no fear. Are you that sure of yourself?"
This was a really nicely balanced GOW/Canon Jasper portrayal. Chelsea is one of those characters largely unknown and undeveloped, too, so Mothlights has given her some dimension where none before has existed. By the end of the oneshot, I was dying to read more and dying to tell everyone of my Jasper loving buddies to read it, too.
I hope you all enjoy it as much as I did and make sure to leave Mothlights some love. At 15 reviews for this fic, it's an absolute travesty that it hasn't gotten more recognition. Let her know The Jasper's Darlins sent you!