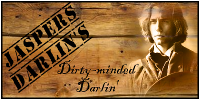 This week's dirty was pointed out to me by fellow Darlin', VegaTenshi. She's more of a perv than I am... and I just didn't think that was possible. *snort* Read on to find out what naughty words have passed Jackson's delicious lips.
Interviewer:
Besides Annabelle (your guitar), do you own any pets? The alive kind of variety that is.
Jackson:
I have a cat named Dean. He's fat and happy and sleeps on my face.
Did you catch that? If not, let me get you up to speed: Jackson just admitted that he sleeps with a fat pussy on his face.
I have no doubt that it's the happiest pussy on Earth. Screw Disneyland, I'll take Jackson's face any day. *weeps with jealousy*