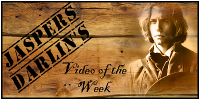 Hey guys!!!
So yeah, I suck at posting on time. LOL.
I'm here before the weekend is over so that has to count for something right? Right? :D
Today's video is my absolute, without a doubt, favorite part in any of the movies. Jasper is doing what he does best and that is training others to fight.
So without further ado lets get to the hotness...
Until next week....MWAH