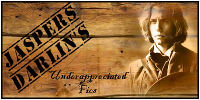 Hey guys!!!
I know I'm a day late, but better late than never.
Today's underappreciated fic is one I was recced about a week ago by a friend of mine.
It's called
The Lists
and is by shirleypositive72.
Summary: Just write a list, Alice says, to know what to look for in your ideal man. But I have two lists...
Okay, so when the story starts Alice is trying to get Bella to make a list of her ideal guy. What she wants in a boyfriend kind of thing. Bella is kind of anal and makes lists like it's going out of style so she ends up with two lists.
The first is for her ideal guy which just happens to be everything she thinks Alice's brother, Edward, is. He's not anything like her list though. In other words, he's a dickhead, but Bella doesn't realize it at first. Thankfully, she figures it out.
The second list is the bad boy list and Jasper is the epitome of that list. He's so freaking hot it's not even funny. I mean how can you go wrong with a tatted up, pierced, motorcycle fixing, musician, protective Jasper? The answer is you can't.
On top of Jasper, Shirley has written a story where things are all mixed up but in a good way.
Alice is with Mike and Mike is pretty likable, something I never thought I'd say.
Jacob and Seth are Bella's adoptive brothers, so no worries about the first being a douche that doesn't hear the word no.
Bella dated Paul who was Emmett's best friend.
And Edward is with Jessica, which is what makes him a dick since he hits on Bella while he's out on a date with Jess. TWICE!!!
This story is pretty awesome and I love getting an update.
I want to leave you with a little teaser before I go...
J leans in now, placing one arm on the wall next to my head in a moment of déjà vu, then letting his free hand rest on my hip, driving away all thoughts of earlier tonight.
"Then that boy is fucking stupid." He gets closer, watching me through half closed eyes, waiting to see if I will pull back. I don't. His full lips are soft but not weak. Urgent but not aggressive. He wastes no time and runs his tongue along my bottom lip. God, I think I just hummed, not moaned, I won't call it a moan. I part my lips to let him in and am assaulted by the taste of him. Beer, cigarettes, but somehow sweet and, oh, fuck, do that again. I can feel the ring in his lip and, damn, it's sexy. My arms raise on their own, and my hands reach to the back of his head, running my fingers through the thick, soft hair at his neck. His hand tightens on my body as I pull myself closer. He deepens the kiss as he pushes me tighter against the wall and -
"Didn't I tell all you sons of bitches NO FUCKING TOUCHING?"
Hee hee, I said little. You have to go read to see how we get to this point and who is talking at the end and don't forget to leave Shirley some love in a review.

Until next week...MWAH!