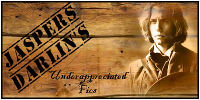 Hey guys!!!
Okay, so today's underappreciated fic isn't what I would really call a fic. However, that doesn't mean I don't love it any less and I just found out about it a few days ago.
Now, the author is Busymommy. I think we all know her from Let Your Fingers Do The Talking and Going Under for the Third Time.
Changes in Latitude
is a prequel to Going Under. While a prequel, Changes in Latitude is set up a bit different. It's not a full story with a beginning, middle, and end. Each chapter is a different entry in a journal that Jasper is writing in. The timeline is before Going Under starts and after the reason why Jasper is like he is (don't want to say just in case you haven't read it).
Each entry is short, but you get the full view of Jasper's state of mind at that time. He breaks your heart and I want to just wrap myself around him in a big hug.
You also get a little bit of when he meets Emmett.
There are thirteen chapter so far and I think there are going to be 17 when she's finished posting. I do know all of them have been written since it was for a fundraiser and she's posting one a day so you don't have to wait long to read the next entry. So go read.
You don't want to miss out on getting in Jasper's head a little more. Even if it's a sad place to be in this.
I hope you like it and please leave busymommy some love when you're finished.
Until next week...MWAH!