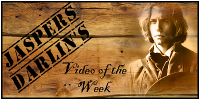 Hey guys!!!!
So sorry, I missed last week, but I'm here now. I hope all of you had a great holiday and please, if you will be celebrating the New Year, be safe.
Today's video is the one I was going to use last week and then time got away from me. It's a little late since it's a Jackson Tribute to a Christmas song. However, I think it will be okay since Santa forgot to leave him under my tree again.
Maybe if I get a jump start on telling him this year, I'll find Jackson there next year.
Hope you guys enjoy...
Until next week...MWAH