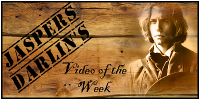 Hey guys!!!
So sorry I've missed the last few weeks, but it's just been crazy around here. Things are finally settling down, just in time for the rest of the holiday season. :D
Hope all of you had a good Thanksgiving if you celebrate it.
We're going to get right into the video now. It's a tribute to Jackson.
Hope you enjoyed it.
Until next week...MWAH