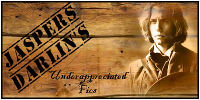 Hey guys!!!
So, yeah this is a little late, but I kinda forgot I had taken it over for a few weeks. I remembered when I went to load the gifs.
Today's underappreciated fic is one I found a few weeks ago and fell in love with.
It's called
Dream Lover
by twilightaddict71484.
Summary: Most girls believe in fairytales. what happens when Bella thinks she has found her prince charming, only it turns out he is nothing more then a toad. will the man of her dreams save her in the end?
Now, I'm going to be honest. The prince charming Bella thinks she has is Edward and he's not a toad.
HE"S AN ASSHOLE. I swear I want to throat and junk punch him repeatedly for being the complete douchebag he is.
I might also want to slap Bella for dealing with it for so long, but we're finally to that point where she's getting away from his sorry ass.
(If you haven't noticed yet, I really hate Edward in this fic.)
Of course, Edward's dickness is countered nicely with the man of Bella's dreams. Of course, it's Jasper, but it's not the typical story line. She doesn't meet him in a coffee shop or at work. No...no...no he comes to her in her dreams and you can guess what happens in those dreams. Lots and lots of smutty good times.
I can't wait to see where the story is going or how Jasper and Bella will react when they're face to face. Because, yes, he is a real person and Bella is already friend's with one of his family members.
One thing I know for sure is it's going to be interesting.
I hope all of you give it a chance and don't forget to leave twilightaddict71484 some love.
Until next week....MWAH