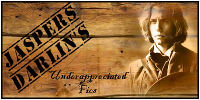 Hey Guys!!!!
Yes, it's me again, but I'm just filling in for JasperLuver48 for a few weeks. She'll be back soon, but until then I hope to bring you lots of new and great stories like she does.
Today's underappreciated fic is called
What Tomorrow May Bring
by twilightobsessed09.
I love this fic because to me it is so original. I am one of the fortunate few that knows how the story is going to go and let me just say that you are all in for a very large treat.
It starts out when Jasper is still very much human. Bella is his neighbor and the two of them start out their lives together before he even leaves for the Civil War. Peter is also her brother.
Bella and Jasper get married right before Jasper and Peter leave to join the war.
I can't say much more or else I'll give the story away before she even gets it written, but trust me you want to put it on alerts. She's breaking my heart and forcing me to take cold showers with what she's writing.
So please, go check it out and leave her some love.
Until next week....MWAH!!!