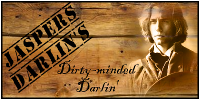 It's Monday! And ya'll know what that means... time to get perveh. *grins and rubs hands together*
This week's dirty comes from fellow Darlin' extraordinairre, abbymickey24.
Interviewer:
How can your fans reach you?
Jackson:
I just started the
twitter thing
. I'm still new, so be gentle with me; I'll be gentle to you.
*reads words again*
He's on... twitter?
*licks lips*
*lets his answer sink in for a minute*
*follows Jax faster than my hands can click*
*goes into stalker mode*